Power Play: Ferrari LaFerrari, McLaren P1, or Porsche 918
Wednesday, September 30th, 2015
Thanks to our planet's dwindling oil reserves, automakers have been forced to look for other ways to fuel our beloved cars. Electricity is the current frontrunner, and nearly every automaker is scrambling to add battery packs to their best-selling models. Stricter government regulations have forced supercar builders to follow suit, and the latest electrified dream cars from England, Italy, and Germany are fast, really fast.
But which one should you buy? Let's find out.
McLaren P1
A super/hyper car is supposed to look like a rolling imagination, and no car embodies that better than the McLaren P1. This battery infused hypercar has an active suspension and active aero bits to help it continuously conform to the road. The entire carbon fiber body has just five panels to save the extra weight caused by joints and glue. The exhaust outlet is situated above the rear diffuser, to create additional downforce from the burnt hydrocarbons exiting the engine. There is no glovebox, carpet, or lacquer on the carbon fiber trim (this saves 3.5 lbs).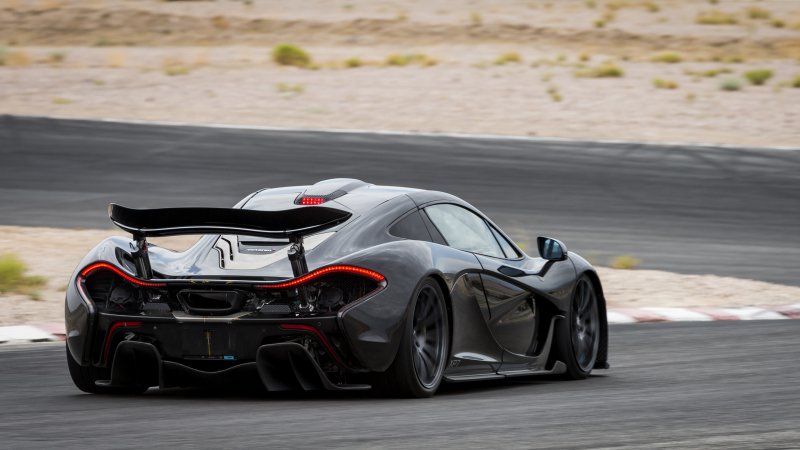 With barely 3,300 lbs to lug around, the McLaren P1 offers Veyron-esque acceleration, in a light, easy-to-drive package. A 176-hp electric motor combined with a 727-hp 3.8L twin-turbo V8 produces a staggering 903-hp. The resulting mayhem yields 0-60 sprints of 2.7 seconds, and a blistering top speed of 217 mph. Of course, you can plug the P1 into the mains, then drive it in EV mode for up to 6 miles, but this plug-in hybrid system is designed to make power, not save baby seals.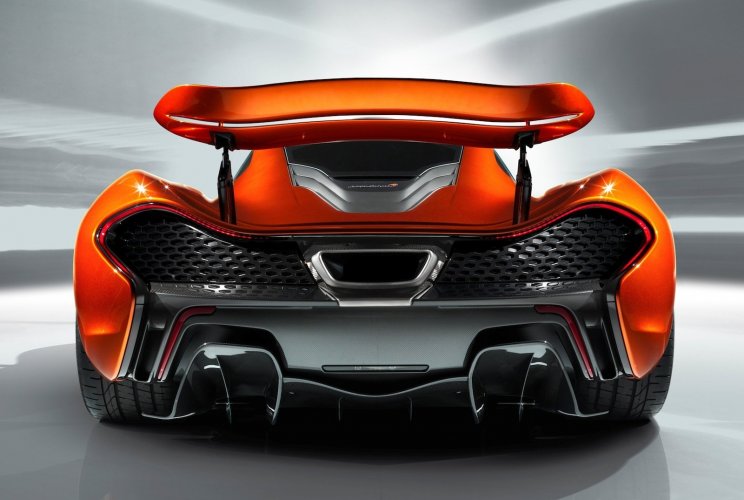 McLaren P1 Specs:
Combined power: 903-hp
0-60 time: 2.7 seconds
Top speed: 217 mph
EV range: 6 miles
MPG: 16/21
Price: $1,150,000
Number to be made: 375
Ferrari LaFerrari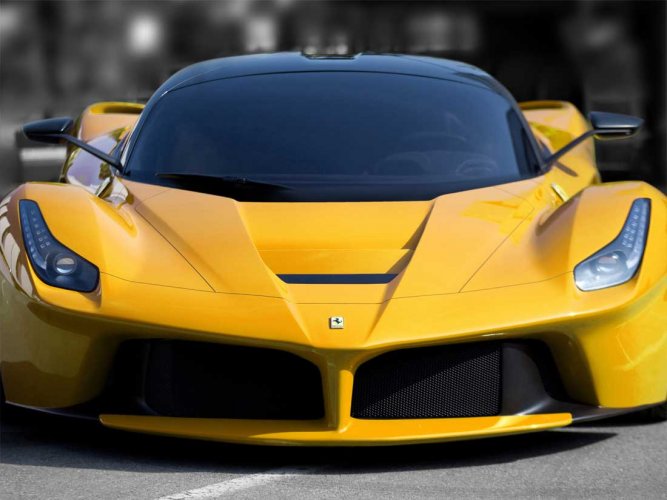 Like all of the Ferrari "invite only" halo cars that came before, the Ferrari LaFerrari uses lots of F1 tech to make it the fastest prancing horse to date. The carbon fiber body was designed in a wind tunnel, and there is active aero panels (even under the car) that can generate up to 800 lbs of downforce. There's an F1-style KERS system that saves the extra electricity, then serves it up like a shot of nitrous under hard acceleration. The seats are molded into the carbon fiber tub, and you adjust the pedal box and steering column to meet your vertical requirements, and there is even an F1 derived E-Diff and 7-speed dual clutch gearbox.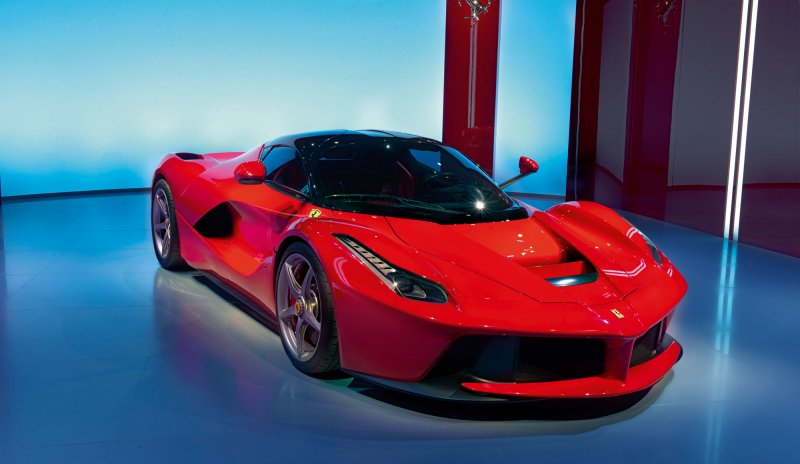 All of this lightweight, road hugging goodness is powered by a 789-hp 6.3L V12, mated to an oil-cooled electric motor that makes 161-hp. There is a plug to charge the lithium-ion batteries for a claimed 5 miles of pollutant-free driving, but we do not care about that. What we do care about is the pooweerr! 950-hp is the combined output, 60 mph appears in just 2.6 seconds, and the terminal velocity is 218 mph. It may be ugly, and have the most redundant name in history, but the Ferrari LaFerrari is one fast hybrid.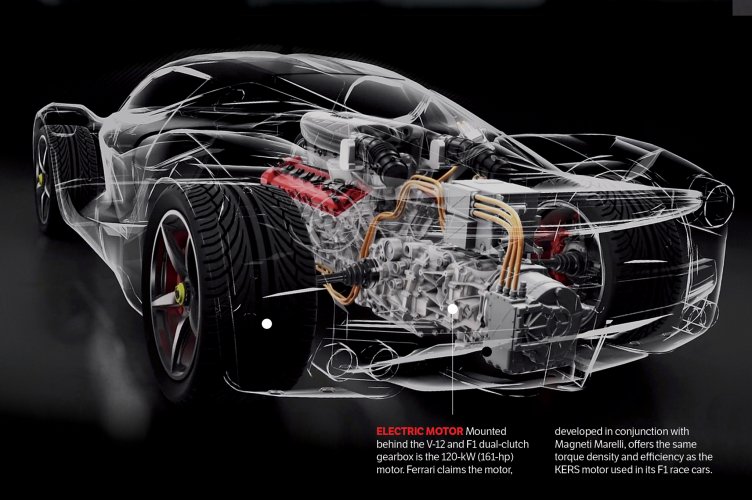 Ferrari LaFerrari Specs:
Combined power: 950-hp
0-60 time: 2.6 seconds
Top speed: 218 mph
EV range: 5 miles
MPG: 14/20
Price: $1,400,000
Number to be made: 499
Porsche 918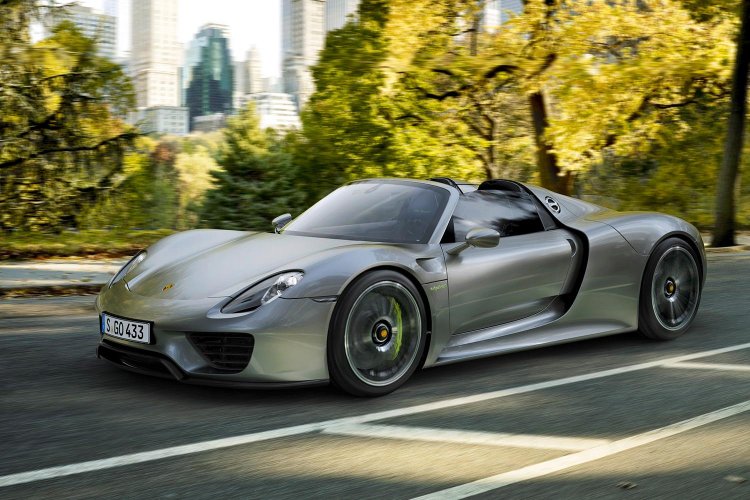 Like the Ferrari LaFerrari and McLaren P1, this hybrid Porsche gets lots of carbon fiber and active aerodynamics, but unlike those two, the Porsche 918 is all-wheel drive, which allows for truly electric handling (pardon the pun). MotorTrend observed 1.12 g's of lateral grip, a 0-60 time of 2.4 seconds, and a quarter-mile time of 10 seconds dead. It also lapped the Nurburgring at a crazy-fast 6:57, which beats the LaFerrari's ring time 6:59.2. The P1, however did the deed in 6:47, making it the current fastest production car to scoot through 'green hell'.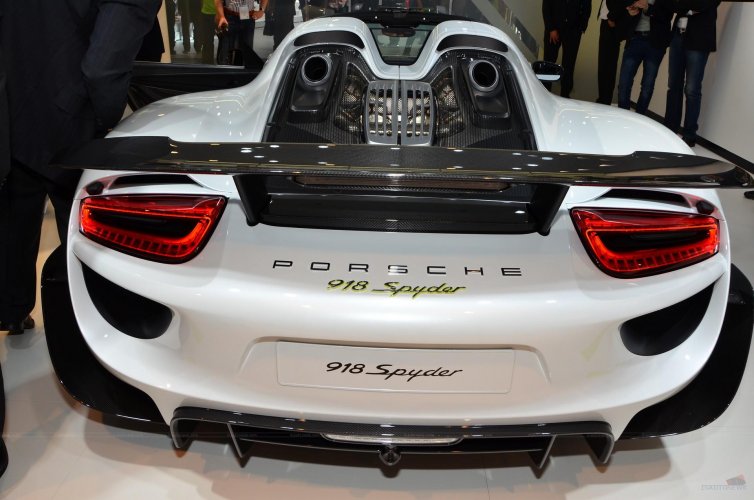 Nonetheless, Porsche's hybrid hypercar is still blisteringly fast, and it boasts a number of technical amazements. The 608-hp 4.6L V8, for example, has a howling 9150 rpm redline, and it exhausts directly behind the driver, through the top of the engine cover. There is two electric motors: a 154-hp unit is mounted between the V8, and the 7 -speed double-clutch; and a 127-hp motor drives the front axle when needed, which you can drive for up to 12 miles in EV mode. Giving it best-in-class range, not that you really care…
Porsche 918 Specs:
Combined power: 887-hp
0-60 time: 2.4 seconds
Top speed: 211 mph
EV range: 12 miles
MPG: 20/24
Price: $847,000
Number to be made: 918
So which one?
While the LaFerrari is impressive, and the McLaren P1 is fantastic to look at; We have to go with the Porsche 918. All of these cars are absolutely stunning, but the 918's performance accessibility matched with it's performance give it a slight edge. It's hard to put one of these cars over the other, so no matter what you would choose, the end result would always produce a smile from ear to ear.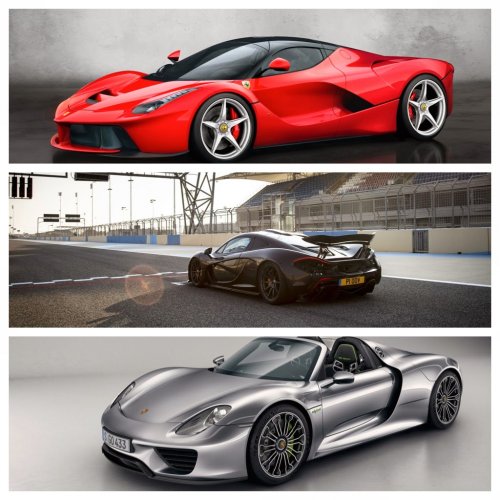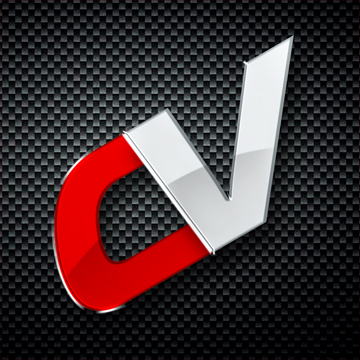 By: Teddy Field
Must Reads